"Thanksgiving Snack" at USO building, Anchorage
Dublin Core
Title
"Thanksgiving Snack" at USO building, Anchorage
Description
Title taken from caption on front of photograph. Group of soldiers lined up to get food during Thanksgiving meal at USO building in Anchorage, Alaska, with other soldiers eating in right background. From caption below photo: "In the canteen."
Source
Beulah Marrs Parisi papers, Archives and Special Collections, Consortium Library, University of Alaska Anchorage.
Rights
Archives does not hold copyright to this photograph. For information about obtaining digitized copies, please contact Archives and Special Collections.
Identifier
UAA-hmc-0445-series2-2-28
Files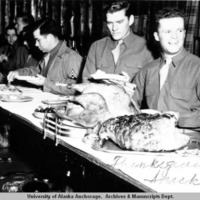 Citation
Unknown, ""Thanksgiving Snack" at USO building, Anchorage,"
Archives and Special Collections, UAA/APU Consortium Library online exhibits
, accessed July 2, 2022,
http://consortiumlibrary.org/archives/omeka/items/show/610
.