Last week we debuted a mobile version of the library website using the techniques we developed for the mobile library catalog.  We automatically redirect to the mobile site for a selection of mobile browsers  (iPhone/iTouch, Android, Palm WebOS, Blackberry, Mobile Opera, Mobile Firefox, and Symbian s60) that covers a broad segment of the smartphone and high-end feature phones.  In addition, we have a link to the mobile site on the front page so users of mobile browsers we may have missed can make their own choice.  Also, low bandwidth users might prefer the mobile site.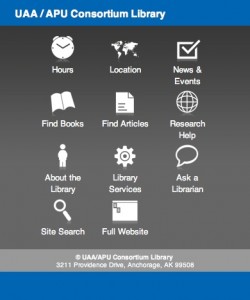 The mobile home page is laid out with a set of icons to selected resources on the library website with an emphasis on those that might be more useful for mobile users.  However, we took a different approach than some web developers which only make a selection of pages available via the mobile version.  Instead we make every page on the main website available in the mobile version.  Mobile users also have the ability to toggle to the full website if needed.
Another nice feature is that we link to the mobile version of  library resources when possible.  For example, we link to the mobile version of the Ebsco databases like Academic Search Premier.  We will keep our eye on other vendors and link to their mobile versions when they become available.
Finally, the work we did to make a mobile version of the website allowed us to easily add a text version for screen readers and non-graphical browsers.  We had  text version before but only for the home page, now the entire website is available in a text version.  A link to the text version displays at the top of the page for screen readers and non-graphical browsers but is hidden from regular web browsers.