We have a funny problem with WorldCat.org and at our library.  When you are in the library or on campus and search Worldcat, our library appears to be 257 miles away when trying to find copies in a library nearby.  It works fine if you are off campus somewhere else in town.  So what gives?  OCLC is looking a the IP address of the browser and doing a lookup to determine zip code location.  Unfortunately, the lookup for our IP addresses on campus thinks we are in Fairbanks because that is where the statewide university system connects to the broader Internet.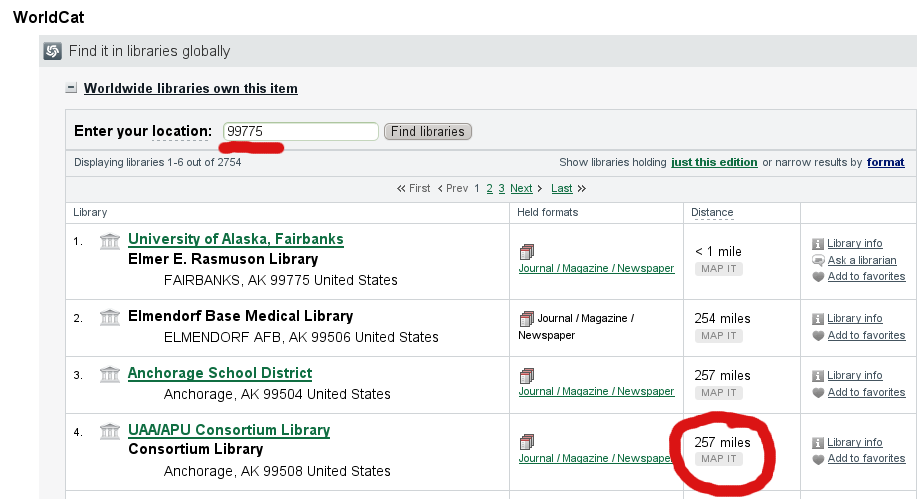 We reported this to OCLC  3 years ago when we first noticed it.  They had no way to specify or customize how IP addresses were associated with zip codes since they used an unspecified external service for their geo mapping.  They offered that when WorldCat Local came it might be fixed.  Turns out that's not true.  A couple of months ago we came up with a work around, not sure why it took so long for us to think of it.  When we link to WorldCat on our website, we include the Ezproxy prefix so the site is included in the proxy server.  We've configured the proxy server to automatically authenticate users on campus so they don't have to login but to continue proxying the WorldCat website.  Since Ezproxy is a URL rewriting proxy, we then use a search and replace command to insert the correct zip code:
Title Consortium Library WorldCat Local
URL http://consortiumlibrary.worldcat.org
DJ worldcat.org
Find &referer=
Replace &loc=99508&referer=
It's not perfect.  It only works when users access WorldCat from the library website. If users on campus go directly to WorldCat or end up there from GoogleBooks they will have a Fairbanks zip code.  Since OCLC seems unable to offer a real fix, my colleague had the clever idea of contacting geo IP services and getting them to correct the zip code for our IP ranges.  Maybe we will get lucky and fix the one that OCLC uses.