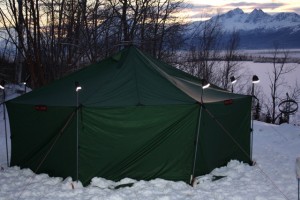 My wife and I just bought the Hilleberg Altai UL, a lightweight yurt that is ideal for winter camping. Years ago I bought a Black Diamond Megamid, a floorless pyramid tent often used by groups as a cook tent or shelter. We added a small, portable wood burning stove from Kifaru by sewing a fireproof jack for the stove pipe into the tent canopy.
The stove (3-4lbs) and Megamid (4-5lbs) combination is lightweight, but the set up is too cramped. The Megamid measures 9′ on each side for 81 sf of area, but the sloping walls really cut into the usable space. Add a small, intensely hot stove (nicknamed "the beast") in the middle of it  and you can barely sleep two people much less hang out comfortably.
So a few weeks ago, we started searching for an upgrade.  There are a number of manufacturers of ultralight teepee-like shelters that can accept a wood stove,  but they still have the problem of the sloping walls.  Wall tents are great in terms of livable space, but weight too much.  And thus we finally stumbled on the yurt.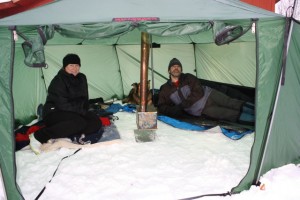 The Altai is an octagon that measures 11′ across, provides about 100 sf of area, and is 6.5′ tall in the center.  But the real difference is the side walls, which are 3.5′ tall.  You can comfortably sleep 4 people with gear and the stove.  And a lot of people can sit inside to hang out, this thing is a palace.  The Altai weighs 6-9lbs depending on the number of poles you bring (its designed so you can use ski poles in place of the side poles and a pair of skis in place of the center pole).  It takes about 30 minutes to set up but the Altai is actually easier to pitch than the Megamid, despite all the poles and guylines.