My wife and I recently travelled to Norway, Sweden and Utah.  Her father was born in Norway and we visited relatives there and in Sweden.  Since we were in the neighborhood we brought our cross country skis and I "ran"  the Birkebeinerennet, a 54km classical ski race from Renna to Lillehammer.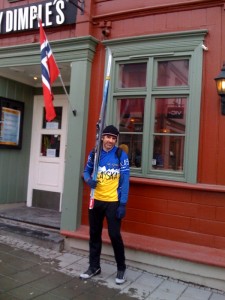 This is a picture of me after the race in front of Dolly's Dimple's, the Applebee's of Norwary.  I thought the race would take about 4 hours and 30 minutes, but it took me almost 6 hours.  I blame the wax.
On the way back to Alaska we stopped in Utah to visit my sister and her family.  My mother came up from Florida and joined us.