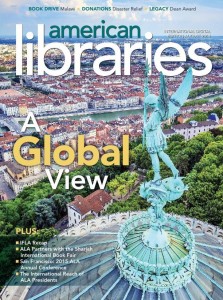 In August, when I arrived in Lyon, France, for the International Federation of Library Associations (IFLA) conference, it was my first trip abroad and I didn't know much about IFLA. A month later, I'm having a hard time separating the newness of the travel experience from the conference itself, but here's my attempt.
The theme of this year's conference was "Libraries, Citizens, Societies: Confluence for Knowledge," so named because Lyon is at the confluence of the Rhône and Saône rivers. Including this year's, France has hosted the annual IFLA conference six times since IFLA's founding in 1927.  IFLA is a nonprofit organization that has evolved from mainly a European federation of library associations to a worldwide group that in 1976 added institutional memberships and more recently individual memberships. Members are still predominantly organizations (including the American Library Association), and the conference is probably of most value to people conducting IFLA business, including this year's "Lyon Declaration on Access to Information and Development," which calls on member states of the United Nations "to acknowledge that access to information, and the skills to use it effectively, are required for sustainable development." The signing of this document was quite the buzz at the conference.  Even though I'm not an IFLA member and not involved in signing international declarations, the conference was a valuable experience.
The convention center was a half-hour walk from my hotel through Parc de la Tête d'Or (Golden Head Park), the largest urban park in France, very lovely, and very loved, judging from throngs of families, joggers, bicyclists, and walking commuters. The convention center sits between the edge of the park and the Rhône River.
For a sense of the conference's internationality, when I introduced myself to the person next to me at the opening plenary, I learned she was the librarian at the Parliamentary Institute of Cambodia.
Plenary speeches were in a steep amphitheater and in the language of the speaker. It took considerable time to stand in line for a translation headset, climb up to an available seat, listen to the talk, climb back down, get in line to return the headset, and then get to the first program session.  (Session presentations were all in English.)  As a result, I did not attend all plenaries.
On August 18, I was part of a panel presenting on health literacy. My half-hour presentation was called "Medical Library Support for Peer Language Navigators in Anchorage, Alaska: Partnering to Help Individuals with Limited English Proficiency Find Reliable, Culturally Relevant Health Information."  Other presentation topics included an outreach project to get current health information to health workers in rural Uganda, a McGill University study of medical librarians' use of critical appraisal of the literature, medical librarians' role in health promotion in Iran, and health literacy in Turkey.  Unfortunately, our morning session overlapped with a plenary speech by Princess Laurentien of the Netherlands on libraries and literacy, so attendance wasn't what it could have been, but by the end, as people drifted in after the plenary, there were over 55 people in the room.  After the session, the health literacy panelists, along with section committee members, went out to lunch and had a nice visit, doing our best to communicate with each other in our respective languages.  The dozen or so people at the table were from Uganda, Iran, Turkey, Sweden, Finland, Ireland, Germany, Canada, and the U.S.
I attended sessions covering a range of topics: blending pedagogy with Maori traditions and worldview in New Zealand, a massive digitization project cleaning and photographing indigenous objects in Taiwan (I was surprised to learn there are 16 indigenous groups in Taiwan), helping Manitoba's indigenous students (predominantly Cree, Ojibwe, Sioux, Inuit, and Métis) feel welcome and successful at the University of Manitoba, identifying and archiving historical photographs of indigenous groups of the Cordillera Region of the Philippines, cooperation between public libraries and schools in the Netherlands, building literacy in rural Ethiopia, a family literacy program in Australia, and others.
I think what I gained most from the conference was the opportunity to meet so many people from so many countries and also the realization that libraries and librarians around the world grapple with very similar issues.
As a side note, I'd been told over and over that Lyon is the gastronomic capital of France, possibly the world, and I was ready to be blown away by the food. Perhaps my expectations were too high, or perhaps I tended to choose the wrong restaurant or the wrong menu item, but other than an amazing apple tarte tatin I was underwhelmed by Lyon dining.  It made me realize how many good restaurants we have in Anchorage.  Lyon is a lovely city, though, and I hope to return someday.