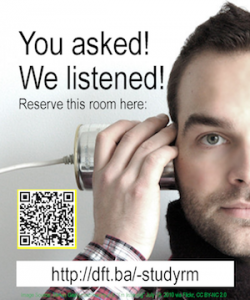 Many people left comments about study space in last year's LibQUAL survey. In particular, there were quite a few requests for individual study rooms and for better ways to register for group study rooms. Some people felt that the study rooms were not being fully utilized—for instance, a group would often be asked to leave their study room without seeing that another group was coming in, and many groups were trying to book during the peak times and being turned away, when the rooms were almost entirely unused at other times of day.
We want to let you know, we read all of these comments and took them seriously. In response to your requests, we've opened up four individual study rooms, we've converted the copy room on the second floor into a new group study room, and we've purchased software to allow for self-booking of study rooms.
We hope the room booking software, in particular, will help the student body get the most benefit from the study rooms. You can use it to book an individual or group study room, up to a week ahead of time. You can easily see how busy the rooms are and work with your group to pick a time when they're open. If you're running late to meet your group, you look online to see where your group is meeting and join them. You can check room availability and book with your smartphone or tablet.
We think it's pretty great.
If you want to, you can still show up or call to book a room. We're happy to make bookings for you! But this way, if you don't feel like calling, you don't have to. Just make your booking online, check your email for the booking approval, and check in at the front desk so our staff can unlock the door for you!