You've probably heard that the library remains open to student use during the COVID-19 pandemic, but did you know there are certain services you can use to stay safe?
Don't come in unnecessarily
Need a book from the library but don't want to come in without knowing you can have it for sure? You can tell if the book you want is still in the library by doing a search at consortiumlibrary.org. Once you find your item in the list of results, click on it.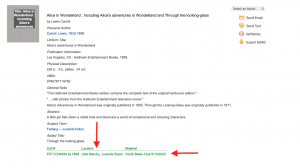 As you can see by the red arrows, there are two key pieces of information. First, you can see which library the book is available at under the "Location" column. Your UAA or APU ID will get you into the UAA/APU Consortium Library, so be sure your item is listed there.
Second, you can tell if the item is available on the shelf in the information to the right of the location. If someone else has the item, it will say "Checked Out" with a due date next to it.
If your item is checked out, try searching the Ebooks or Alaska's Digital Library!
Have items waiting for you
If the item you want is checked out by someone else, or if you want to be sure it will be waiting for you at the Circulation Desk when you visit, you can place a hold. 
To place a hold, check to see if there's a "Place Hold" button in the upper right hand corner of the item's catalog entry. If there is, click on it. It will ask you to provide your UAA ID number and PIN,  and then ask where you want to pick up your item. Make sure it delivers to the UAA/APU Consortium Library. If you don't know your PIN, contact the Circulation Desk at 786-1871. 
You will receive an email when your item is ready for pick-up. You may then head to the Circulation Desk to check out your item. Don't forget your ID to get into the building.
Stay healthy, my friends!