Happy summer, everyone! With classes being over, it's time to do some reading for fun. Here are some selections to fit whatever mood you're in.
(Library insider secret: librarians call conversations with library users about what to read next "reader's advisory." It's often a librarian's favorite part of the job because we get to share books we love and think you will, too!)
Feeling revolutionary?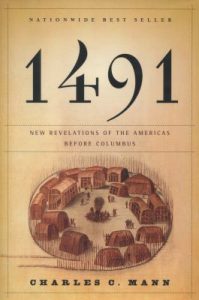 1491 by Charles C. Mann (E61.M266 2005)
"Mann shows how a new generation of researchers equipped with novel scientific techniques have come to previously unheard-of conclusions about the Americas before the arrival of the Europeans: In 1491 there were probably more people living in the Americas than in Europe. Certain cities — such as Tenochtitlán, the Aztec capital — were greater in population than any European city. Tenochtitlán, unlike any capital in Europe at that time, had running water, beautiful botanical gardens, and immaculately clean streets. The earliest cities in the Western Hemisphere were thriving before the Egyptians built the great pyramids. Native Americans transformed their land so completely that Europeans arrived in a hemisphere already massively "landscaped" by human beings. Pre-Columbian Indians in Mexico developed corn by a breeding process that the journal Science recently described as "man's first, and perhaps the greatest, feat of genetic engineering."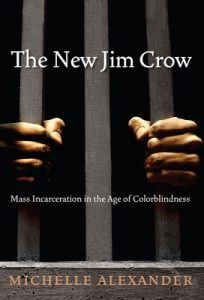 The New Jim Crow by Michelle Alexander (HV9950.A437 2012)
"This work argues that the War on Drugs and policies that deny convicted felons equal access to employment, housing, education, and public benefits create a permanent under caste based largely on race.As the United States celebrates the nation's "triumph over race" with the election of Barack Obama, the majority of young black men in major American cities are locked behind bars or have been labeled felons for life. Although Jim Crow laws have been wiped off the books, an astounding percentage of the African American community remains trapped in a subordinate status – much like their grandparents before them. In this incisive critique, former litigator-turned-legal-scholar Michelle Alexander provocatively argues that we have not ended racial caste in America: we have simply redesigned it. Alexander shows that, by targeting black men and decimating communities of color, the U.S. criminal justice system functions as a contemporary system of racial control, even as it formally adheres to the principle of color blindness. The New Jim Crow challenges the civil rights community – and all of us – to place mass incarceration at the forefront of a new movement for racial justice in America."
Feeling beach-y?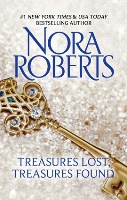 Treasures Lost, Treasures Found by Nora Roberts (Available online)
"Kate Hardesty had inherited a pile of mysterious ocean charts. Her practical, no-nonsense father had had a dream–sunken treasure–and he'd left a map leading to a gold-laden ship.Determined to complete her father's explorations, she turned to the only man with the ability to tackle the treacherous dive deep beneath the Atlantic: Ky Silver.Kate had left Ky four years ago, frightened of the needs he awoke in her, yet now she needed him more than ever. But working with Ky meant more than searching for gold pieces–it meant plunging her heart into the depths of love…."

The Woman in Cabin 10 by Ruth Ware (Available online)
"From New York Times bestselling author of the "twisty-mystery" (Vulture) novel In a Dark, Dark Wood, comes The Woman in Cabin 10, an equally suspenseful and haunting novel from Ruth Ware—this time, set at sea.In this tightly wound, enthralling story reminiscent of Agatha Christie's works, Lo Blacklock, a journalist who writes for a travel magazine, has just been given the assignment of a lifetime: a week on a luxury cruise with only a handful of cabins. The sky is clear, the waters calm, and the veneered, select guests jovial as the exclusive cruise ship, the Aurora, begins her voyage in the picturesque North Sea. At first, Lo's stay is nothing but pleasant: the cabins are plush, the dinner parties are sparkling, and the guests are elegant. But as the week wears on, frigid winds whip the deck, gray skies fall, and Lo witnesses what she can only describe as a dark and terrifying nightmare: a woman being thrown overboard. The problem? All passengers remain accounted for—and so, the ship sails on as if nothing has happened, despite Lo's desperate attempts to convey that something (or someone) has gone terribly, terribly wrong… With surprising twists, spine-tingling turns, and a setting that proves as uncomfortably claustrophobic as it is eerily beautiful, Ruth Ware offers up another taut and intense read in The Woman in Cabin 10—one that will leave even the most sure-footed reader restlessly uneasy long after the last page is turned."
Feel like heading to the kitchen?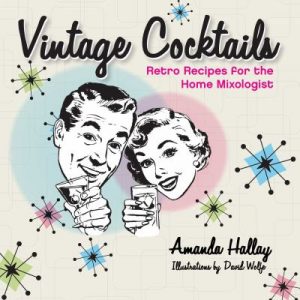 Vintage Cocktails: Retro Recipes for the Home Mixologist by Amanda Hallay (TX951.H2236 2011)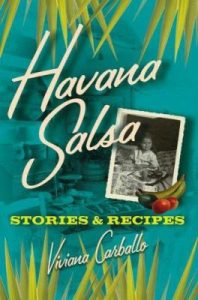 Havana Salsa: Stories and Recipes by Viviana Carballo (TX716.C9 C37 2006)
Still not seeing anything that catches your eye? Chat with our Virtual Reference librarians here!
Happy reading!