Looking for a textbook? Your professors may have placed their course books on reserve at the Consortium Library! These books are available free of charge for either check out or in-library use (meaning you may only use them in the library). 
To see if your books are available on reserve, go to the UAA/APU Consortium Library's home page and click on "Course Reserves" under "Services."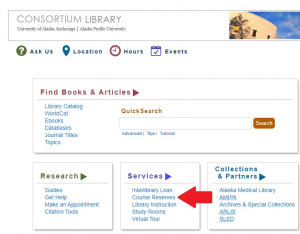 You can search by Course ID, Course Name, or Instructor Name. Once you find your class or professor, click on the name to pull up the list of materials on reserve. Visit the Circulation Desk to pick up your books.
If you'd like more information about finding textbooks, check out this guide: https://libguides.consortiumlibrary.org/textbooks
Happy studying!